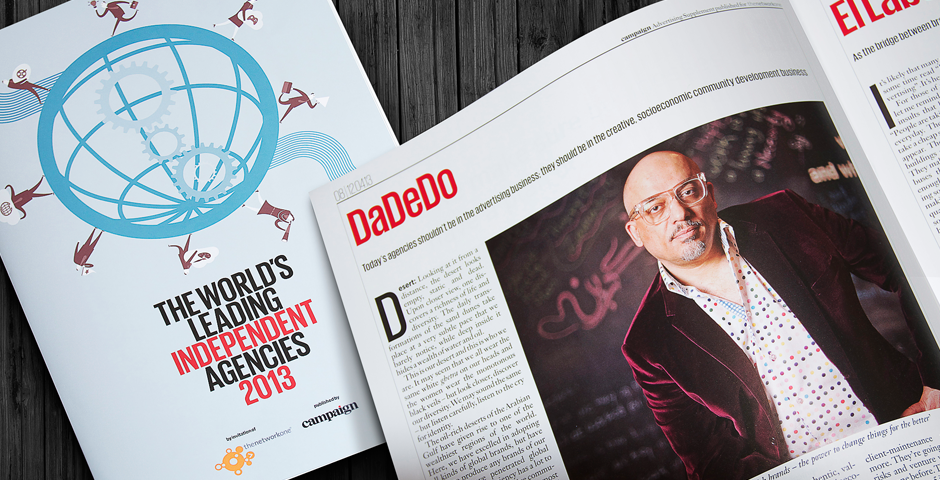 DaDeDo, a creative agency established in Bahrain and now operating in the Arabian Gulf, was selected as the first Agency in the Arab world to be featured in Campaign magazine's publication called "The World's leading Independent Agencies". 
The special supplement consists of articles written by 13 of "the most dynamic, visionary and creatively innovative independent agencies", who were handpicked thenetworkone, the biggest network of independent agencies in the world.
DaDeDo established its presence in the GCC market under the name "DarOtakwin" in 2009. The agency's success and expansion over the years created a necessity to develop the identity and prepare the agency for international expansion.
Providing insight into the agency's new name, Mr. Faeq Alolaiwat, DaDeDo's Chief Executive and Creative Officer, said, "We wanted a universal name that would convey the heartbeat of "wow" design or concepts. It had to express the mystery behind the infinite creativity of people".
"With a majority of GCC creative talent, we seek to provide brave and authentic work to local communities in various nations" added Mr. Alolaiwat.
DaDeDo's vision is to help brands in Bahrain, Abu Dhabi, Oman and Qatar become value-adding vehicles for socio economic development through large-scale creative and unconventional campaigns.