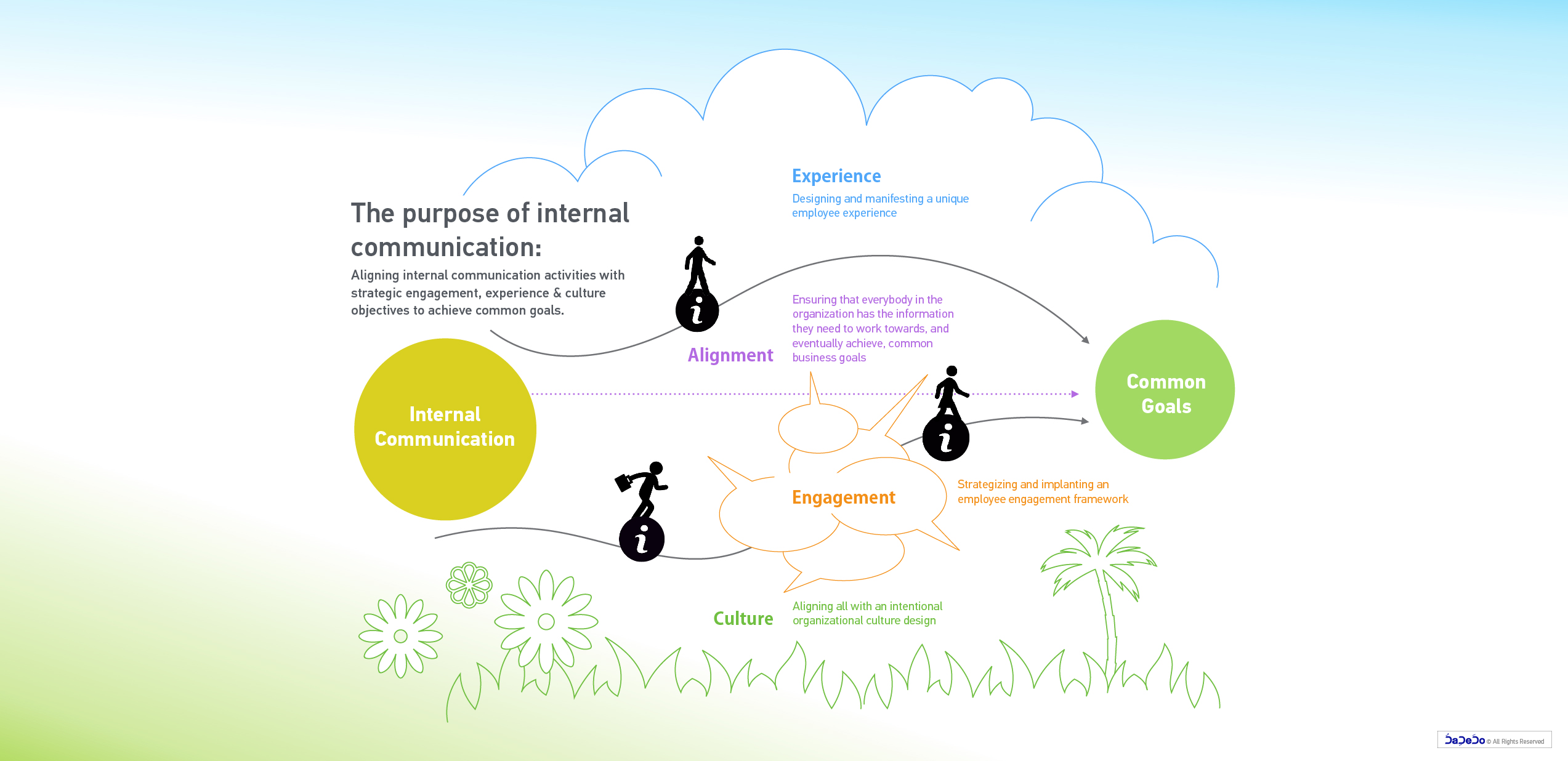 Why do you need
an Internal Communication & Culture Transformation Agency?
The purpose of internal communication is to ensure that everybody in the organization has the information they need to work towards, and eventually achieve, a common goal. DaDeDo helps organizations strategize, plan and achieve their internal communication goals. But we go much further than that…
DaDeDo supports organizational leaders in developing an intentional organizational culture by strategizing and implanting an employee engagement framework, designing and manifesting a unique employee experience and insuring that your internal communication activities are aligned with these strategic objectives.
In summary, DaDeDo supports large organizations and communities in:
Understanding and mapping their endemic cultures…
Aligning it with leadership vision…
Through a high-performance culture, that is:

Intentionally designed
Inspirationally communicated
Experientially implemented

Utilizing:

State of the art, Design Thinking based strategies, methods and tools
Strategically authored and creatively produced content
Engaging and innovative employee experience
What happens beyond the logo, the graphic device and a hundred pages guidelines manual? How can brands stand out in a world exploding with brand colors, messages and innovative media ideas, all begging for the consumer's attention whose numb because of all the extravaganza and too busy tweeting?
Brands are continuously finding it difficult to establish meaningful connections with their consumers.
Our strategic brand development methodology is fueled by deep socio-economic and cultural insights to ensure we develop brands that stand out in their cultural relevance and positioning.
We innovated new strategic tools such as brand culture and motifs that we implement across existing and new innovative touch points using latest communication vehicles and technologies. We help organizations build and sustain a creative brand culture.
In today's competitive marketplace, design is the key differentiator of brands. Our multidisciplinary design team in graphic, communication, packaging, environment, digital and product design ensure that your touch points, services, spaces, and interactive experiences establish the ultimate connection with your customers.